356 And 912 Rods
LJ offers an enterprise-grade of high-precision, CNC programmed Porsche 356 and 912 connecting Rods manufactured from world-class material featuring high tensile strength, no maintenance, rust resistance and superior heavy-duty performance under extreme conditions. Our Porsche connecting rods are well-finished, affordable and long-lasting.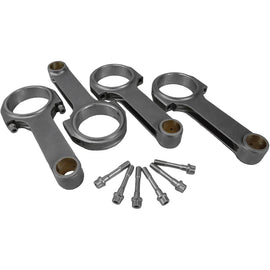 Sale!
356 And 912 Rods
Porsche 912/356 5.352" Forged Chromoly H-Beam Rod
This is a Brand New Set of H-Beam Connecting Rods for the Porsche 356C or 912. These are 4340 for...
This is a Brand New Set of H-Beam Connecting Rods for the Porsche 356C or 912. These are 4340 forged Chromoly steel with high strength 1/4 ARP Rod 625 Bolts. They are These stock 5.352" length with the stock 22mm pin.    ***Please note that this rod set requires a Smaller Base Circle Cam to Clear*** Engine: Aircooled Porsche 356C and 912Length: 5.352"Wrist pin diameter: 22mmBolt Type: ARP 625
$1,085.80 $1,142.95